We talk about what's in Update 35 Spoiler alert lot's of Dragonborns are going to be running around soon! Dragongeddon is upon us!
Audio Only Listen And Download Link
Podcast: Play in new window | Download (63.1MB)
YouTube Watch Links
---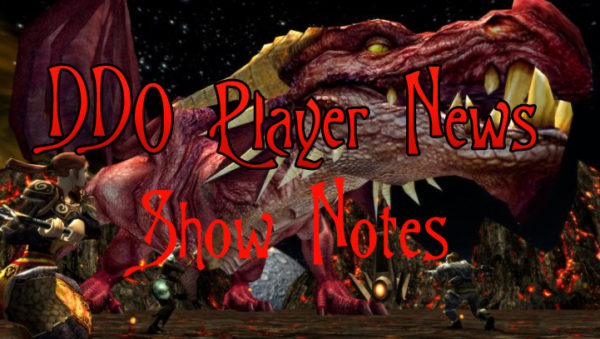 Game News
Lamannia Update 35 Release Notes
Store Sales
Free Sample Of The Week  March 10th – 16th
Greater Elixir of Angel's Tears x1 Use Coupon Code ANGELHELP 1/Account
25 % Off
Slayer Count Boosts
Select Shared Storage
Jewels of Fortune
Treasure Hunter's Elixirs
DDO Players News
DDO Players Screen Shot Of The Week #61
From The Dungeon
D&D Beyond Digital Tools Coming This Summer
On The Table Top
New Dungeons & Dragons Board Game Coming From Wizkids
IDW Teams with Atari to Make Table-Top Games Based on Atari Classics
Week in Gaming
Drac Week
Cannith
Ranger  13 (Gnome – Static Group With Mythery, Sahba Jade, Rent2Pwn, Cad)
Tower Of Frost *Hard*
Memoirs of an Illusory Larcener *Hard*
Giant Hold
Slayers/Explorers ETC..
Trial By Fire *Elite*
Rogue Lvl 15  (With Pineleaf)
Menace of the Underdark
The Spinner of Shadows
Beyond the Rift
Mask of Deception
Pineleaf Week
Human Monk (Past Art) Level 9-10  
Sorrowdusk Isle
The Fane of the Six: Cleansing the Temple
The Fane of the Six: Fall of the Prelate
The Sanctum: Quench the Flames
The Sanctum: Church of the Fury
Gnome warlock Level 16 (with Drac)
Menace of the Underdark
The Spinner of Shadows
Beyond the Rift
Mask of Deception – pulled the full dungeon at once – this was tough!
Tabletop
One Deck Dungeon
Defeated the Hydra and the Minotaur
Failed to reach boss in my first try against the Lich
Castles of Burgundy Card Game
Dresden Files Cooperative Card Game
Minecraft
Finished my rendition of the Lighthouse of Pharos
Donations
We currently have 22 supporters on Patreon. If you would like help support DDO Players, simply go to the donation page where you can support The Players Alliance on Patreon.   There you will find rewards including a mention on the podcast of your choice, or even guest for an episode on DDO Players News.
Feedback
iTunes Reviews
This week we did not receive any reviews but would love your support!
Featured Comments
This week we have no featured comments
Emails
This week we have no emails.
Contact Us
Email us!
podcast@ddoplayers.com
Follow us on Twitter!
The Players Alliance @PlayersAlly
DDO Players @DDOPlayers
Draculetta @Draculetta_72
Pineleaf @PineleafNeedles
Final Thoughts
The Players Alliance LIVE Shows
Mondays at 8:30 p.m. Eastern – DDO Players News
1st and 3rd Fridays 11pm. Eastern – XP Quest
Saturdays at 8:30 p.m. Eastern – LOTRO Players News
Join Us For Our Live Shows! ddoplayers.com/live/