This week we are joined by Patrick from DDOCast.
Audio Only Listen And Download Link
Podcast: Play in new window | Download (56.8MB)
YouTube Watch Links
---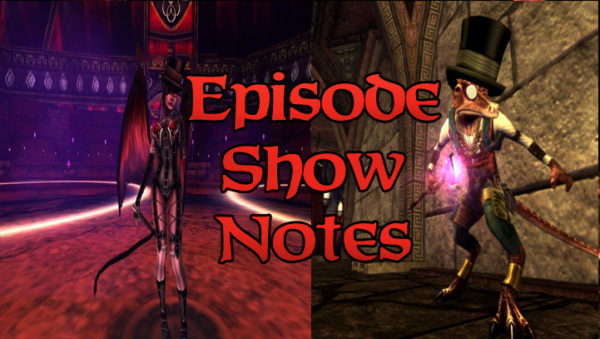 Store Sales
Free Sample Of The Week NOW – July 13th
Light Spell Point Potion x10 with the Coupon Code MOREPOW
20% Off:
Slayer Boosts
Loot Boost & Treasure Hunter Elixirs
Shared Storage
Summer Sails Week Two!
35% off
50% off
Colossal Ingredient Bags
Haunted Halls of Eveningstar Pack
75% off
A Chat With Patrick From DDOCast
DDOCast
This weekend: spreadsheets with sahba jade
Next week: ask the devs
From The Dungeon
Gen Con 50 Sells Out of 4-Day Badges
D&D Icons of the Realms:  Classic Creatures Box Set
Adventures in Middle-earth 5E – Rhovanion Region Guide Now Available
Week in Gaming
Drac Week
Rogue Lvl 19 (With Pineleaf)
Inspired Quarter
Harbor
Pineleaf Week
Gnome warlock Level 19 (with Drac)
Inspired Quarter
Harbor
Tabletop
LOTR Card Game – The Paths of the Dead (a very close game – lost at very end)
Roll Player
Minecraft
Started Season 3 of my Multiplayer server. Still trying to find a decent base location.
Donations
We currently have 22 supporters on Patreon. If you would like help support DDO Players, simply go to the donation page where you can support The Players Alliance on Patreon.   There you will find rewards including a mention on the podcast of your choice, or even guest for an episode on DDO Players News.
Feedback
iTunes Reviews
This week we did not receive any reviews but would love your support!
Featured Comments
This week we have no featured comments
Emails
This week we have no emails.
Contact Us
Email us!
podcast@ddoplayers.com
Follow us on Twitter!
The Players Alliance @PlayersAlly
DDO Players @DDOPlayers
Draculetta @Draculetta_72
Pineleaf @PineleafNeedles
Follow Our Guest
Patrick @ddocast
ddocast.com
Final Thoughts
The Players Alliance LIVE Shows
Mondays at 8:30 p.m. Eastern – DDO Players News
1st and 3rd Fridays 12am (Midnight) . Eastern – XP Quest
Last Friday of Every Month – LOTRO Academy After School
Saturdays at 8:30 p.m. Eastern – LOTRO Players News
Join Us For Our Live Shows! ddoplayers.com/live/