Well, your chances of attending Gen Con 2017 is now down by another day. We all ready told you that the 4 day badges SOLD OUT.  And Saturday was the next to go, well that time is now here.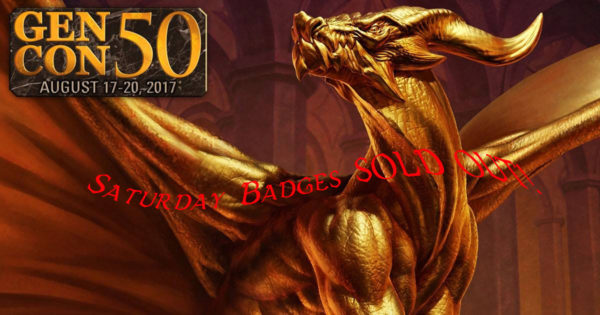 So that means "The Best Four Days In Gaming" is now down to "The Best 3 Days In Gaming" if you have not bought your badges yet, as the only ones left are Thursday, Friday, Sunday and Gen Con sent along word that those are all going fast and are on pace to SELL OUT as well, so this means for the FIRST time EVER, Gen Con could be a full sell out.
I can't wait to see just how many people are going to be there, as last year it was crowded as all get out, so I can't even phantom the thought of a sell out crowd!
We of course will be covering all 4 days of the convention, I'll be on the show floor shaking hands and conducting interviews with the board game companies and publishers, I have quite a few scheduled all ready, but will be stopping by all the booths and doing interviews as well. So look for our coverage to start the MONDAY after Gen Con, I will have to edit all the videos and such, but I'll be "Live Tweeting" from the show all 4 days (Maybe even doing some live Facebook video!) So, make sure you are following us on Twitter and Facebook, you never know when I'll hit the live button!