Patch notes for Update 25 are now up for your reading pleasure, as we wait for the servers to come back up!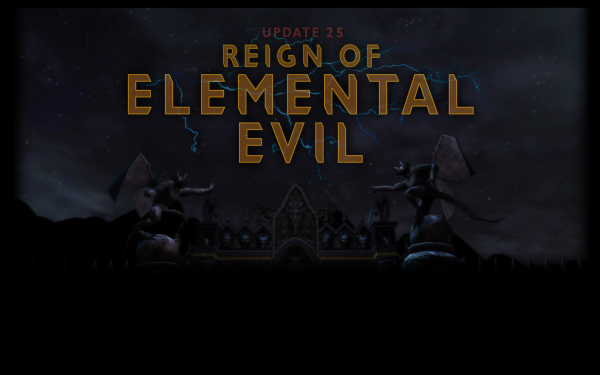 A few of the highlights are :
Temple of Elemental Evil!
Explore the classic Temple of Elemental Evil! Featuring the voice of actor/writer Wil Wheaton, this new adventure pack (FREE to VIPs) offers both Heroic and Epic level versions. The NPCs that bestow and take adventurers to the Temple of Elemental Evil can be found in the Stormreach or Eveningstar Hall of Heroes in addition to the Hall of Heroes passport available from the Character Selection screen.
New Monster Manual!
A new volume of the Monster Manual is available in the DDO Store (free to VIPs)! Slay monsters anywhere in DDO and earn cool rewards, such as D&D monster art and cosmetic pets! This is the last Monster Manual edition to feature Astral Shards, so get it today – the next edition of Monster Manual will offer a different type of reward!
There are a few changes as well
Combat
Crossbow animations now fire and reload with one click, and now queue up attacks properly. Both repeating and non-repeating crossbows have been changed.
Bleed damage now scales 200% with Melee Power.
Ranged Power has been added to Epic Levels and Epic Destiny cores:
Each Epic level from 21 to 28 now increases Ranged Power by three.

Fatesinger, Shadowdancer, Primal Avatar and Shiradi Champion gain +4 Ranged Power per innate ability.
Grandmaster of Flowers and Unyielding Sentinel gain +3 Ranged Power per innate ability.
Divine Crusader and Legendary Dreadnaught gain +2 Ranged Power per innate ability.
Fury of the Wild gains +1 Ranged Power per innate ability.
Hirelings
New Veteran status characters now receive a contract for a cleric hireling from the Minotaur Crewman on the Heart of Wind.
Items
The Ruby Eyes of Righteousness and Force now correctly state in their long descriptions that they do 3 to 12 damage, instead of 4 to 16.
PRR and MRR values for Heavy/Medium/Light armors are now 30 + Base Attack Bonus + 6/20 + (2*BAB)/3 +4/10 + BAB/2 + 2.
Ammunition found in chests will now appear in stacks of 100.
Thieve's Tools now stack up to one thousand in a stack.
Mysterious Cloaks and Bracers that had non-functioning Green Augment slots now work correctly.
Fixed a text error in the description of MRR for Mysterious Cloaks and Bracers.
This update also includes the Rogue Mechanic and The Rogue Assassin updates.
Take a look at the full release notes yourself, as there is a lot in there to read!