Gather your friends! and your VR Headsets! It's time to dungeon crawl.
The market for virtual reality products is currently heating up. You have a choice of  VR headsets due to hit stores in the coming year, including the Facebook-owned Oculus Rift, Sony's Project Morpheus, and the Valve and HTC co-developed Vive. Also  Microsoft, which is developing the HoloLens AR headset.
Now if you have taken the plunge into the VR world, you can play a game of Dungeons And Dragons. No, not a video game.. I'm talking about playing PEN AND PAPER, in the VR World!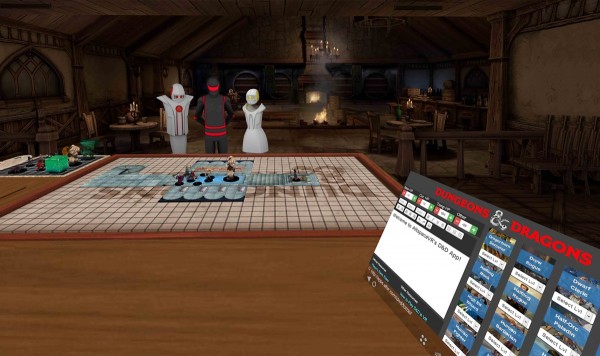 VR software company AltspaceVR announced a partnership with D&D publisher Wizards of the Coast that brings officially licensed D&D assets to a tavern-themed online virtual reality setting. Users create a private game space where they can gather with around a 3D table, and control individual avatars representing each player. They can build a map using dungeon, wilderness and city themed terrain tiles; record their characters on official D&D character sheets; and move around figurines representing various D&D player classes as well as monsters.
Eric Romo, founder and CEO of AltspaceVR says
"D&D is extremely social, which is why we are so excited to offer it in AltspaceVR," . "Players love it… we've seen them hang out together for sessions lasting six hours—previously only developers spent that long in VR."
It seems as if Wizards is complety on board as well, brand director for Dungeons & Dragons, Nathan Stewart says
AltspaceVR bridges the gap between Dungeons & Dragons video games and physically sitting around a table with friends. You get the same sense of excitement and drama in the AltspaceVR tavern, from laughing at your buddy's funny goblin voice to watching the d20 bounce and finally land on the natural 20 you needed to hit the beholder terrorizing your party.
AltspaceVR has a video if you would like to see how this works
Head over to the website and check it out.  If you lucky enough to own a VR headset right now, you can take it for a test drive now, via this link.