Get ready to die, A LOT
Dark Souls The Board Game is a strategically challenging, deeply immersive combat exploration game for 1-4 players set in the Dark Souls universe. Players choose from a number of core character classes and explore dangerous locations full of monsters, treasures, and deadly boss fights.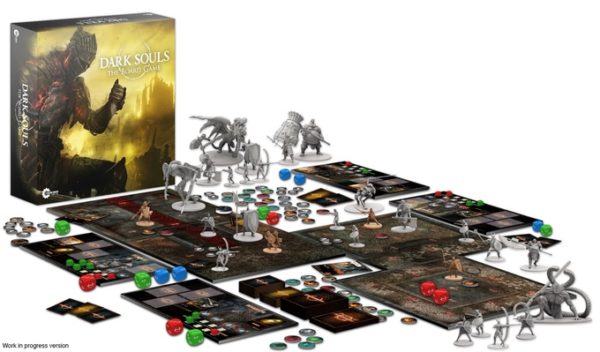 The game takes players on a difficult challenge, fighting against all manner of monsters from the various Dark Souls video games. Expect your character to die MANY MANY times.  Survival isn't guaranteed. It's a cooperative game where you're going to need every bit of your wits, as well as luck, in order to make it to the end alive.
The game has some interesting mechanics which allow you to enjoy some fascinating replay value. The game is also brutally hard with some terrifying enemies driven by A.I decks allowing one to four players to brave the darkness.

The heroes that are available right now include the Knight, Warrior, Herald and Assassin. Each of them can pick up gear and other weapons as you wander through the dungeon tiles and uncover new encounters against dark denizens.
As popular as the video games are, it's not a surprise to anyone that the kickstarter hit the goal all most as soon as it was active. So it's killing the stretch goals (See what I did there)
Podcast: Play in new window | Download (34.8MB)