We have no DDO news this week, we cover what's going on in the community via the chronicle, and we review the new D&D 5E Source book Volo's Guide To Monsters!
Audio Only Listen And Download Link
Podcast: Play in new window | Download (38.3MB)
YouTube Watch Links
---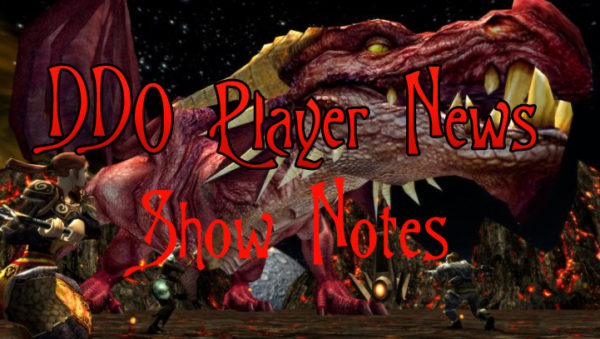 Game News
Store Sales
Free Sample Of The Week November 11th – 17th
Gold Seal Elixir of Lesser Healing x10 Use Coupon Code DRINKHEALS 1/Account
20 % OFF
Augments
Select Crafting Items
Select Cosmetics
Select Cosmetic Hats, Helms, & Headwear
DDO Players News
From The Dungeon
Volo's Guide To Monsters Review
Wizards Of The Coast Panel At Gamehole Con
Dungeons & Dragons Inducted Into Toy Hall Of Fame
The One Ring Bundle Of Holding
On The Table Top
Krosmaster Collection Coming From CMON
Steve Jackson Games Brings Us Munchkin Wonderland
New Expansion for Elder Sign announced
Week in Gaming
Drac Week
Cannith
Shadar-Kai Lvl 19
The Devil's Gambit
Grim and Barett And STILL NO Quiver drop!
Rogue Lvl 13  (With Pineleaf)
The Twelve / Lordsmarch Plaza
Mired in Kobolds
Diplomatic Impunity
Frame Work
Dungeons & Dragons 5E Storm King's Thunder
Party made it out of the Dripping Caves. They are currently on the way to Triboar, oh and Did I mention they are being taken there, via a Storm Giants Floating Castle?
They learned (well my friends kid's learned, what happens when you poke a black pudding)
I learned that it's just not Clerics I dislike, it's also Firmilar's as well. Stupid Inflict Damage Spell.
Read the instructions, for Impact City Roller Derby, does that count as gaming?
Pineleaf Week
Gnome warlock Level 13 (with Drac)
The Twelve / Lordsmarch Plaza
Mired in Kobolds (ouch)
Diplomatic Impunity
Frame Work (Rock-solid evidence, dimension door came in handy at the end)
Minecraft
Completed two pending projects. Yeah!
Octodice
Some good scores and some not some good scores
My general goal is to score 40 – a rare achievement
Cthulhu: A Deckbuilding Game
I finally understand what Tom Vassal means by "A Kickstarter Special"
First Cthulhu game I've seen that fulfills both definitions of horrible
"Do you dare open this box?" I suggest you don't
Donations
We currently have 23 supporters on Patreon. If you would like help support DDO Players, simply go to the donation page where you can support The Players Alliance on Patreon.  There you will find rewards including a mention on the podcast of your choice, or even guest for an episode on DDO Players News. By supporting us on Patreon you will help us with the hosting costs associated with running the podcast/website
Feedback
iTunes Reviews
This week we did not receive any reviews but would love your support!
Featured Comments
This week we have no featured comments
Emails
This week we have no emails.
Contact Us
Email us!
podcast@ddoplayers.com
Follow us on Twitter!
The Players Alliance @PlayersAlly
DDO Players @DDOPlayers
Draculetta @Draculetta_72
Pineleaf @PineleafNeedles
Final Thoughts
The Players Alliance LIVE Shows
Mondays at 8:30 p.m. Eastern – DDO Players News
Every Thursday at 9:00ish  p.m. Eastern – XP Quest
Saturdays at 8:30 p.m. Eastern – LOTRO Players News
Last Friday of each month at 8:30 p.m.   – LOTRO Academy: After School
Join Us For Our Live Shows! ddoplayers.com/live/