One of the best-known makers of dining room tables designed specifically for tabletop gaming has closed its doors.
Geek Chic started up in 2008, initially offering a single piece of furniture – the 'Sultan' – and growing over the years to expand its offering to cover a number of dining room and coffee tables, chairs, bookcases and sideboards.
All of the products were built to order, could take multiple months to craft and could be customized by buyers with specific wood, cup holders, dice cups and other accessories.
This luxury came at a cost – the Sultan alone could end up costing up to $30,000 (with a $5,000 deposit required) depending on the options. Even the firm's cheapest table, the Hoplite coffee table, would run you somewhere between $2,000 and $4,000.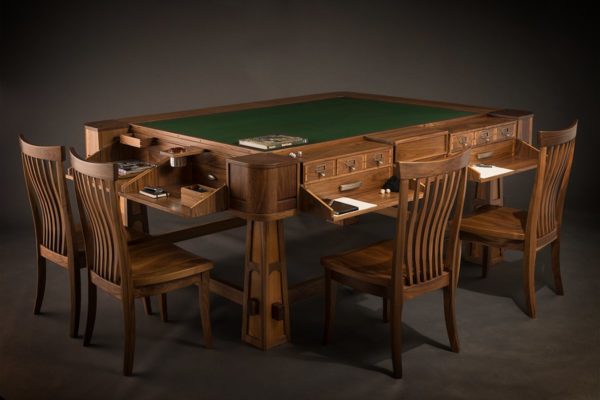 It looked like Geek Chic may be in trouble earlier this month, when those who had pre-ordered tables began to express concern over a lack of communication from the company, including emails bouncing back from the customer support team.
After a short period of silence, company owner Robert Gifford announced that Geek Chic had ceased operation in a short statement, adding:
"Despite heroic efforts by many, this outcome is out of our hands. While I am certain there are many outstanding questions, we are currently limited in our ability to respond. The website will be updated with appropriate contact information and procedures as they become available."
Geek Chic Ceases Operations pic.twitter.com/1o54TfwQWJ

— Geek Chic (@geekchichq) June 13, 2017
This news come with little comfort to those expressing concern on forums such as Reddit that have thousands of dollars wrapped up in the sinking company, as they await to hear the fate of their pre-order money.
I reached out to them , for a statement, and my emails bounced back as well.