This we are joined by Cordovan, to celebrate 150 episodes, and he brought us a sneak peek at Count Strahd himself!
Audio Only Listen And Download Link
Podcast: Play in new window | Download (136.4MB)
YouTube Watch Links
---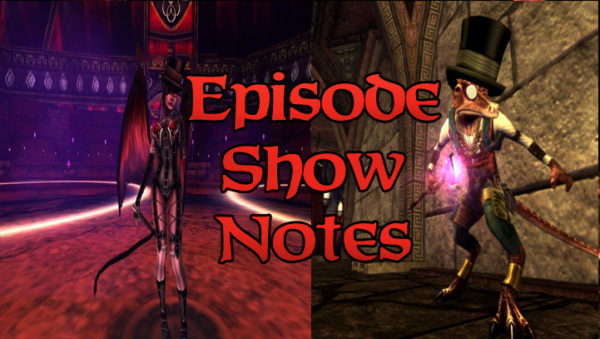 Game News
Update 36 Patch 2 Hotfix Release Notes
U36 Patch 3 First Preview Release Notes
Preview Videos
Store Sales
20% off:
Mirrors of Glamering
Bypass Timers
Cosmetic Outfits
Hats and Helmets
Free Sample Of The Week Now – October 12th
Lesser Slayer Count Boost with the Coupon Code VAMPSLAY
DDO Players News
The History Of Ravenloft In Dungeons & Dragons
Talk About 3rd Anniversary of site, and 150th Episode
Drac will "Tease" a giveaway that will launch on the site Tuesday 10 AM EST
A Chat With Cordovan
This is where Drac tries to pry some Ravenloft information out of Cordovan
Extra Life
Movember
From The Dungeon
Heavy Metal Thunder Mouse RPG On Kickstarter
WOTC Extra Life Goals Unlocked
On The Table Top
Tomb of Annihilation Adventure Strategy Board Game Release Date
On The Screen
First Look At Tales From Candlekeep: Tomb of Annihilation
BKOM Studio Tales From Candlekeep: Tomb of Annihilation Release Date
Commodore 64 C64 Mini Coming Next Year
Atari® Reveals More Details About The Upcoming Ataribox
Week in Gaming
Drac Week
Druid Lvl 10 (Soon To Be WolfLock) At 20 will be Dragon-Wolf-Lock
Harbor
Irestone Inlet (Five Times)
Pale Master Lvl 5 (With Pineleaf)
Harbor
House Denneth
Depths of Despair
Depths of Darkness
Depths of Discord
Depths of Doom
Sharn Syndicate
Repossession
The Bookbinder Rescue
Ranger Lvl 21
Duel for the Underdark
The Mines of Tethyamar
Dungeons & Dragons 5E
The Death Knight's Squire – A 5e Solo Gamebook
Video Games
Tales From Candlekeep: Tomb Of Annihilation
Tabletop
Apocrypha: The World Adventure Card Game
Pineleaf Week
Dragonborn Artificer Level 4
Sharn Syndicate
Stand Your Ground – Mimic at end fell off the ledge
Dirty Laundry
The Stormreaver Fresco
Repossession (with Drac)
The Bookbinder Rescue (with Drac)
Come out and Slay
Harbor
Irestone Inlet (with Drac)
House Denneth
Depths of Despair (with Drac)
Depths of Darkness (with Drac)
Depths of Discord (with Drac)
Depths of Doom (with Drac)
Marketplace
Missing in Action
Freshen the Air (First time I recall ever doing – forgot to summon my cleric)
House Phiarlan
Rest for the Restless (reached level 5)
Minecraft
In the Monthly challenge, I found the

igloo,and was attacked by a small zombie.

Managed to complete the Zombie Doctor advancement after getting killed.
In Welstopia, wrangled some cattle by creating a tunnel beneath a mountain.
Tabletop
Started a new YouTube series "Pineleaf on Board."
Episode 1 was Onirim
Donations
We currently have 23 supporters on Patreon. If you would like help support DDO Players, simply go to the donation page where you can support The Players Alliance on Patreon.   There you will find rewards including a mention on the podcast of your choice, or even guest for an episode on DDO Players News.
Feedback
iTunes Reviews
This week we did not receive any reviews but would love your support!
Featured Comments
From EvenNote on Commodore 64 C64 Mini Coming Next Year
Shut up and take my money already! I am DEFINITELY getting one of these!
From Sallie on DDO Players News Episode 149 – The Dreaded Ham-Mimic!
Great podcast as always, awww when you mentioned that Sev replied to a forum thread complaining about mimics I realized that was my thread! Woot, it's weird to think ya'll saw my thread hehe.
Emails
GumpsGang Writes An Email
*the following message is in no way well informed, read at your own risk*
Helllloooo Drac and Pineleaf,
It's in the distance, you can almost smell it.  Mists of Ravenloft!
I love good-natured tinfoil hatting.  The U36 Patch 3 Lamania Preview has me mesmerized.  I am going to assume we are going to follow the normal Daybreak (publisher) model for older MMO expansion packages.  You can see the expansion bundles forming and it's looking good.
 Aasimar race — included an ALL expansion bundles AND free to VIP (good move)
 Vistani Knife Fighter tree — Part of the deluxe?  Ultimate?  Super Spooky Special Bundle? … AND earnable via Ravenloft favor (fair move)
 Gold Seal Scarecrow Hirelings — Part of a deluxe bundle(s) as is customary
4a.  One Cosmetic and One Pet — deluxe  bundle
4b.  Two Cosmetics and Two Pets — Strahd's Bestie bundle
What do you think?  I'm starting to get excited.  Can you smell what SSG is cooking?
Best wishes,
@GumpsGang
Villiage Idiot
P.S.  What's with the very dangerous Amazon Picks on the website?!  My wallet is crying.
Contact Us
Email us!
podcast@ddoplayers.com
Follow us on Twitter!
The Players Alliance @PlayersAlly
DDO Players @DDOPlayers
Draculetta @Draculetta_72
Pineleaf @PineleafNeedles
Final Thoughts
The Players Alliance LIVE Shows
Mondays at 8:30 p.m. Eastern – DDO Players News
Saturdays at 8:30 p.m. Eastern – LOTRO Players News
Join Us For Our Live Shows! ddoplayers.com/live/