We are back from a short hiatus! We talk Ravenloft, and we get caught up and finish our Strahdvent readings.
Audio Only Listen And Download Link
Podcast: Play in new window | Download (55.8MB)
YouTube Watch Links
______________________________________________________________________________________________________________________________________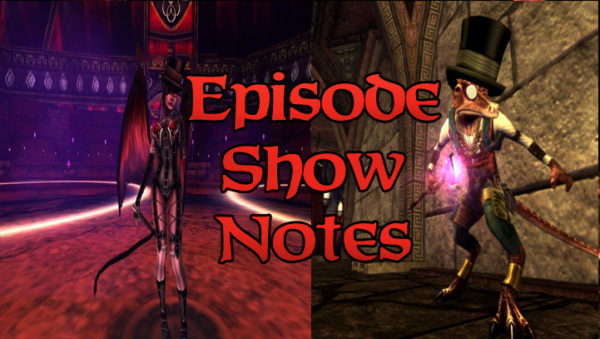 Game News
Previous Weeks Strahdvent Readings
Strahdvent Week #5
Strahdvent Week #6
Strahdvent Week #7
Store Sales
20% off:
Sovereign XP Elixirs
Treasure Hunter Elixirs
Greater Slayer Boosts
Long Lasting Supreme Ability Potions
Free Sample Of The Week Now – December 7th
Long Lasting Potion of 10 Physical Resistance x5 with the Coupon Code NOTINTHEFACE
December Deals begin! A new sale every week! Now – December 7th
75% off the Eveningstar Challenge Pack
50% off the Traveler's Terrific Trunk and Universal Challenge Tokens
35% off Racial hearts of Wood
From The Dungeon
Moria Coming To The One Ring And Adventures In Middle-earth RPG
On The Table Top
Betrayal Legacy Coming From Avalon Hill
On The Screen
Neverwinter Nights Enhanced Edition On The Way From Beamdog
Week in Gaming
Drac Week
Cannith
Ranger Lvl 7 *Holding 8*
Marketplace
The Sharn Syndicate
Stand Your Ground
Dirty Laundry
The Stormreaver Fresco
The Bookbinder Rescue
Repossession
Come Out and Slay
Argonnessen
WolfLock Lvl 21
Slayers
The Ruins of Thunderholme (epic)
Orchard of the Macabre (epic)
Video Games
7 Days To Die Permadeath Group
Died. Only Rent and I left, I had 14 minutes to live because of infection, we were both searchings for antibiotics in a building, Opened up a bathroom door and a mini-horde came out overcame me. At least I did not die from the infection! Almost made it horde night died like 1 hour (Game time) before. Rent survived.
Pineleaf Week
Dragonborn Artificer Level 6-8
Delara's Tomb
The Mystery of Delera's Tomb
The Missing Party
Free Delara
Return to Delara's Tomb
Tangleroot Gorge
The Last Move: The Way to Yarkuch (reached level 7)
The Last Move: Yarkuch's Last Stand (trained for level 7)
Temple of Elemental Evil
Part 1 Attempt 1

This run felt particularly brutal.
Completed all commentaries, 200 kills.
During the boss fight, the club failed to help

Part 1 Attempt 2

Decided to skip the club in the boss fight and easily won the fight
House Jorasco
Redwillow's Ruins
Dead Predators
House Deneith
The Black Loch
The Bounty Hunter
Minecraft
On my multi-player world, I completedbymini Nether-hub.
Completed the ceiling to the temple entrance.
Mapped my island.
MHC December – Mansion
Tabletop
Dragonfire
Carcassonne digital version
Paperback digital version
Donations
We currently have 19 supporters on Patreon. If you would like help support DDO Players, simply go to the donation page where you can support The Players Alliance on Patreon.   There you will find rewards including a mention on the podcast of your choice, or even guest for an episode on DDO Players News.
Feedback
iTunes Reviews
Pineleaf logic and the RNG From Grandern from Japan on October 29, 2017
Before I used to get down about the RNG. I would open a chest and get some useless spell material or a variety pack of lackluster scrolls like Cause Fear or Disrupt Undead. Then I found out about Pineleaf Logic. I learned that stones are sometimes made of granite and trees are usually made of wood. Simply put, if you try hard you might win! Now when I open chests, I get +4 Thieves Tools! Thanks, Pineleaf and Draculetta for a wonderful podcast, 5 stars! Dedicated listener, Grandern
Featured Comments
This week we have no featured comments
Emails
This week we have no emails.
Contact Us
Email us!
podcast@ddoplayers.com
Follow us on Twitter!
The Players Alliance @PlayersAlly
DDO Players @DDOPlayers
Draculetta @Draculetta_72
Pineleaf @PineleafNeedles
Final Thoughts
The Players Alliance LIVE Shows
Mondays at 8:30 p.m. Eastern – DDO Players News
Saturdays at 8:30 p.m. Eastern – LOTRO Players News
Join Us For Our Live Shows! ddoplayers.com/live/