Ravenloft is here! We talk about the release and hotfix notes. And we find out Drac has way too many rangers.
Audio Only Listen And Download Link
Podcast: Play in new window | Download (57.2MB)
YouTube Watch Links
_________________________________________________________________________________________________________________________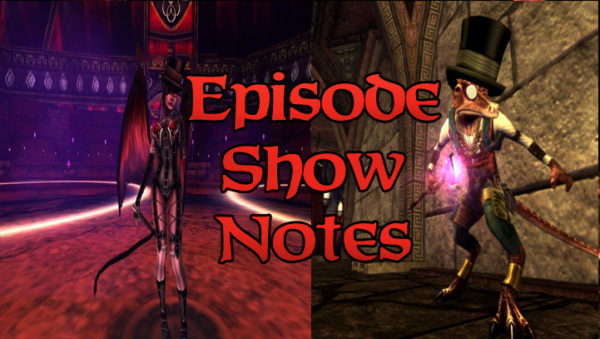 Game News
Update 37: Mists of Ravenloft Release Notes
Update 37: Mists Of Ravenloft Hotfix 1 Release Notes
Downtime Notice: Tuesday, December 12th 9:30 AM – 1:00 PM Eastern
Update 37 Hotfix 2 Release Notes
Store Sales
30% off:
Select Classes
Supreme Ability Tomes and Ability Potions
Alignment Changes
PRR/MRR Potions
December Deals continues! Week 2 brings you:
75% off Sovereign Guild Renown Elixirs
50% off Gold Seal Healing Potions and the Temple of Elemental Evil adventure pack
35% off Mirrors of Glamering
Now through December 14th
Free Sample Of The Week NOW-December 14th
Gold Seal Elixir of Lesser Healing x10 with the Coupon Code HEALMENOW
From The Dungeon
D&D Xanathar's Guide to Everything Shatters Records
On The Table Top
Kill The Unicorns Card Game On Kickstarter
Edgar Allen Poe's Masque of the Red Death Coming From IDW
On The Screen
Jurassic World: Fallen Kingdom First Trailer
The Lord of the Rings: Living Card Game Game Heading To Steam
Week in Gaming
Drac Week
Cannith
Warlock Lvl 13
Mists Of Ravenloft
In The Shadow Of The Castle
Death House
Fresh Baked Dreams
An Invention To Dinner
Druid Lvl 10 (Soon To Be WolfLock) At 20 will be Dragon-Wolf-Lock
Mists Of Ravenloft (Hard)
In The Shadow Of The Castle (Hard)
Death House
Fresh Baked Dreams
An Invention To Dinner
Ranger Lvl 10 (Created An Aasimar Ranger For new static group)
Ranger lvl 10 (Created) Going to do a "Drac In Ravenloft YT Series (First time doing that)
Ranger Lvl 13 With Pineleaf
Mists Of Ravenloft
In The Shadow Of The Castle
Death House
Fresh Baked Dreams
Argonnessen
Ranger Lvl 10 (Created)
Mists Of Ravenloft *With The Damsels Of DDO*
In The Shadow Of The Castle
Video Games
Neverwinter Nights Enhanced (Press Preview)
Pineleaf Week
Human Monk (Monk 7/Warlock 7) Level 14 (with Drac)
Mists of Ravenloft
Into the Mists
Death House
Fresh-baked Dreams
Halfling Paladin 10
Mists of Ravenloft
Into the Mists (without a cleric)
Ripped to shreds
Minecraft
Finally decided to build the Temple of Earth
Most of the first level is done.
Donations
We currently have 18 supporters on Patreon. If you would like help support DDO Players, simply go to the donation page where you can support The Players Alliance on Patreon.   There you will find rewards including a mention on the podcast of your choice, or even guest for an episode on DDO Players News.
Feedback
iTunes Reviews
This week we did not receive any reviews but would love your support!
Featured Comments
Mok Taskmaster
So last week they release the 'digital overlord' version of Imperial Assault ( Star Wars: Imperial Assault – Legends of the Alliance) to play single player, or co-op using the app – through Steam, Google Play Store, Amazon Digital, and Apple AppStore. I just started using that, and it is wonderful.
Fantasy Flight is on a roll here!
Reading this, and watching the video. It looks like it is also coming to iOS, and Android as well as steam. I'd love to think they'll offer cross-buy, so I don't have to buy it on two platforms.
I've never played The LotR LCG but have heard nothing but good things, with a LOT of extra content.
I imagine their other projects and LCG's will follow this digital path as well. Star Wars LCG, Android: Netrunner and Game of Thrones LCG just to name 3 more card games. Asmodee has a LOT of stuff to draw from.
Emails
This week we have no emails.
Contact Us
Email us!
podcast@ddoplayers.com
Follow us on Twitter!
The Players Alliance @PlayersAlly
DDO Players @DDOPlayers
Draculetta @Draculetta_72
Pineleaf @PineleafNeedles
Final Thoughts
The Players Alliance LIVE Shows
Mondays at 8:30 p.m. Eastern – DDO Players News
Saturdays at 8:30 p.m. Eastern – LOTRO Players News
Join Us For Our Live Shows! ddoplayers.com/live/
Baba Yaga Kevin MacLeod (incompetech.com)
Licensed under Creative Commons: By Attribution 3.0 License
http://creativecommons.org/licenses/by/3.0/
Celtic Impulse Kevin MacLeod (incompetech.com)
Licensed under Creative Commons: By Attribution 3.0 License
http://creativecommons.org/licenses/by/3.0/
Dark Hallway (distressed) Kevin MacLeod (incompetech.com)
Licensed under Creative Commons: By Attribution 3.0 License
http://creativecommons.org/licenses/by/3.0/
Darkness Speaks Kevin MacLeod (incompetech.com)
Licensed under Creative Commons: By Attribution 3.0 License
http://creativecommons.org/licenses/by/3.0/
Spazzmatica Polka Kevin MacLeod (incompetech.com)
Licensed under Creative Commons: By Attribution 3.0 License
http://creativecommons.org/licenses/by/3.0/