The long-awaited Producer's Letter has dropped as of today. Severlin posted on the forum 's, Let's dig in shall we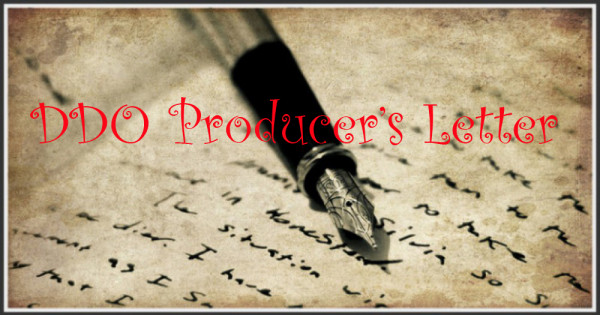 Greetings!
Our first year as Standing Stone Games is behind us, and we want to thank our fans for being part of a wonderful year. We feel truly fortunate to have wonderful players, and we are excited about the upcoming year. I wanted to take some time to talk about our plans for the upcoming months. The reason we are here is because YOU are here, and we look forward to hearing from you.
Update 38 will arrive this Spring, and will return adventurers to Eberron. The magic that has long protected Stormreach is failing, and a strange plague is sweeping through the city. You'll join forces with the healers of House Jorasco to find a cure and save your adopted home. This new adventure pack will be level 14 on Heroic difficulty, and level 31 on Legendary difficulty. Part of this work will allow us to tweak House Jorasco as well, to help players get around the space.
Drac Says – Sounds like a solid fun adventure pack, I'm happy to see that Eberron getting some love!
We will also be doing a bit of work on the Anniversary Event, including some new event rewards, as we celebrate DDO's 12th year! We will have a special gift for players as well, but do not want to spoil the surprise.
Drac Says – I enjoy the anniversary event, glad it's coming back, and always dropping us a tease.
One of the things we have long heard from you about is the desire to have a third Artificer Enhancement tree, and we're pleased to be able to say that the Renegade Mastermaker will be coming in the near future. This tree will focus on improving your Repair spells, Curative Admixtures, personal Defense, and building things to buff both yourself and your allies. We also intend to add a third Favored Soul tree, update the Cleric Warpriest, and do extensive work on the Druid class. For Druid, we will be working on the core of the class, its animal forms, and both of its existing enhancement trees in addition to a brand new enhancement tree.
Drac Says – I don't play an arti, but I know this is one of the things, a lot of players have wanted for a long time. so rejoice! I am very intrigued by the Druid changes, as I do play a druid. 
Another thing we have long wanted to do is update our Treasure of Crystal Cove event, and we intend to start doing that work in the coming months by updating the reward list. Speaking of events, we have plans for Night Revels to update the public space to work similar to the Challenge system its dungeons use, and add a new dungeon for our favorite Halloween event. October is historically one of our biggest months, and we think you'll love what we have in store.
Drac Says – Updated cove event loot is something people at Cap have been waiting, so glad to see them giving a nod to this. And excited to see what this will do for Night Revels, Revels is my favorite event (Everyone is shocked by this I know) hope this helps with the massive lag that hit the event this year. 
Next, we are pleased to announce our next classic adventure! An eccentric wizard has hidden three famous Sentient weapons inside of a volcano, and challenged all comers to try to retrieve them. Can you make it through fiendish obstacles and deadly traps? Have you guessed the pack yet? It's White Plume Mountain, a classic 1979 dungeon that was also recently brought to 5th Edition in the Tales from the Yawning Portal book. We'll be giving this intense test of skill the DDO treatment later this summer in an adventure pack that will also feature several other stand-alone dungeons themed around wizards and their arcane environments.
Drac Says – White Plume Mountain, wow color me surprised on this one! I did enjoy running this back in the day and I plan to run the updated 5th edition from the Yawning Portal book soon for my friend and his kids, excited to see this one hit DDO. I love the fact they are committed to keep doing these "Classic" packs for DDO. I think we hit the right niche for it vs that other D&D Game 🙂
We are happy with the feedback we received about Sentient Weapons with the release of Mists of Ravenloft, and plan to continue to support that system in 2018. In addition to the Sentient Weapons available in White Plume Mountain, we intend to add a Kobold-themed Sentient Jewel for our 12th Anniversary, and create a Dragon-themed jewel for an as-yet unannounced release date.
Drac Says – I think the Sentient weapon system was received well, I have not had a chance to play with it yet, as alas I still don't have an LVL 28 (not for a lack of trying) Kobold Sentient just seems like a no-brainer, but only if they get Cindy Robinson to voice it! and a Dragon themed Sentient would be amazing as well, so both picks I'm happy to see. 
We have another big announcement to make later this year, but we're not ready to hint about that news yet, sorry. Stay tuned soon for an announcement about an adventure that has been on many of our players' wish lists for years. We can't wait to tell you about it!
Drac Says – Again, ALWAYS with the tease. But I Smell Keep on the borderlands.. (I'm still holding out hope for Tomb Of Horrors, but Neverwinter has done that)
On behalf of everyone on the Dungeons & Dragons Online team, we thank you for your support. We've been humbled by the response to the Mists of Ravenloft, and we look forward to continuing our amazing tabletop-to-screen journey with you in 2018 and beyond!

Sev~
So after reading this, it seems as if 2018 is shaping up to be a great year so far, with 2 new packs and the updated events, plus the unnamed tease item to boot. Which is a wonderful splendid thing!
What's your thoughts on the producer's letter?