There were some major spoilers going on the Fireside chat today on the D&D Twitch… Like A New book reveled..  Spoilers…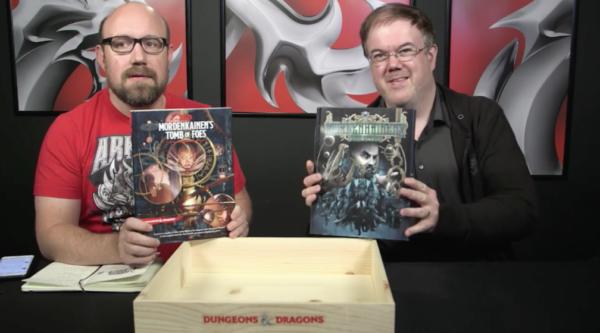 They did say that the covers were mock-ups, so those might change, those are both the standard and limited edition shown above (That's why it says TOMB and not TOME)
This tome is built on the writings of the renowned wizard from the world of Greyhawk, gathered over a lifetime of research and scholarship. In his travels to other realms and other planes of existence, he has made many friends, and has risked his life an equal number of times, to amass the knowledge contained herein. In addition to Mordenkainen's musings on the endless wars of the multiverse, the book contains game statistics for dozens of monsters: new demons and devils, several varieties of elves and duergar, and a vast array of other creatures from throughout the planes of existence.
The title is Mordenkainen's Tome of Foes
There will be a regular and variant cover
The cost will be US$49.95

The release date is still May 29th, 2018

The page count has been updated to 256 pages and we it has been confirmed that it will be a hardcover
Content looks to be focused on multiverse and new monsters.
We don't know much more, I should be getting a Press Release on Monday (and they are going to talk more about in Dragon Talk as well) so we will know more information, but it sounds interesting so far.