Listen And Download Link
Podcast: Play in new window | Download (53.9MB)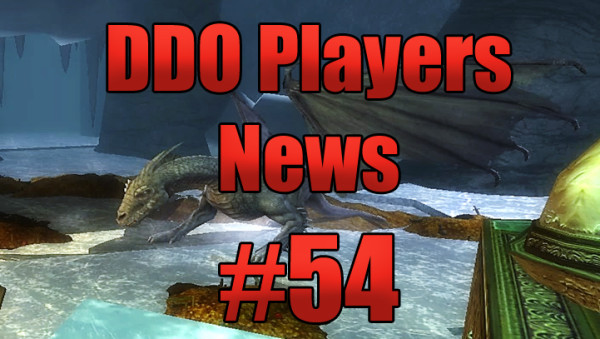 Sahba Jade Of The Damsels Joins Us This Week. We Cover The Arcane Ranger Proposed Changes. We Also Have a Talk About TR and Past Lives.
Game News
MyAccount Maintenance: Tuesday, October 13th from 7:00 AM to 2:00 PM Eastern
DDO Included On MMORPG Five MMOs for Experienced Players
Store Sales
Free Sample Of The Week October 9th – 15th
Bell of Opening x1 Use Coupon Code BBELL 1/Account
20 % OFF
Shared Bank Storage
Character Bank Upgrades
Select Storage Bags
Shared Bank: Platinum Vault
DDO Players News
DDO Players Poll – Have You Gotten A Drop In The Devil's Gambit?
Quijonn
Epic Slice, Epic Dice and the Heroic Laurel Helix on different characters. The drop rates seem reasonable, I'm guessing you could farm for these without too much hassle with a full party.
From the Forum Post
mikarddo
Running EE loot has dropped often and plentifully for me. I still lack the one item I actually want but the drop rates seem fine or too high if anything.
blerkington
I've been running these quests a lot, and got all the items I really wanted quickly and easily. I've also been able to help other people get the items they wanted too, like the quiver, several times. So I have no complaints about the drop rates in that content.
By contrast, I found the amrath chain loot drops much, much worse. I ran them a lot, wasn't able to pull items I wanted after multiple ransacks on two characters on EE. I eventually got the helm myself and someone took pity on me and passed me the ring for my wizard. There are still items I didn't particularly want that I haven't pulled even once. Demon Assault seems the worst offender.
I guess it could all be attributable to the fickleness of RNGesus, but my impression after many runs of both was that drop rates were much better in u28 content than u27 content.
Thanks.
Astrican on Khyber
alancarp
Voted. Also: I have pulled probably 10 named items… everything I wanted, for sure. In fact, I think I can safely say this is the best named item drop rate I've seen for quite a while.
Problem: when equipping 6 set items simultaneously, the promised +3 bonus does not happen. (Was bug reported).
DDO Players Screen Shot Of The Week #36
Announcing The Winner Of Our Stormreach Campaign Giveaway!
News Beyond DDO
New Rage Of Demons Items From Gale Force 9
Gale Force 9 Shows Off The Demogorgon
Vin Diesel Played DnD Over The Weekend With Geek & Sundry
Kobold Press Kickstarts Tome Of Beasts For 5E
A Look Back At Dark Suns Online With Massively Overpowered
Week in DDO
Drac Week
Rogue Lvl 19 (reached)
Devil's Gambit Slice!!! Slice! Dropped! Also – Ship Kickers, Ivy Helix
Completed Abishai In monster manual (can't tell I've been running the new quests a lot eh)
Shadar-kai Lvl 16 (
Ranger/Rogue Lvl  16 With Pineleaf
Trials of the Archons
The Archons' Trial
Demon Assault
The Devil's Details
Pineleaf Week
Arificer Lvl  16 With Drac
Trials of the Archons
The Archons' Trial
Demon Assault
The Devil's Details
Sorcerer (PD) – Level 3
Harbor
Garrison's Missing Pack

Switched to Default mapping. That is what I was looking for.

Durk's Got a Secret
An Explosive Situation
Cerulean Hills
Where There's Smoke…
The Captives
The Catacombs
The Sanctuary
Return to the Sanctuary
Sahba Jade Week
The Red Eye – (Every other week) Lvl 10 Vault of Night 2 and 3
Donations
To help support DDO Players, simply go to the donation page where you can support The Players Alliance on Patreon.  There you will find rewards including a mention on DDO Players News Or Even be able to guest host with us!
We would like to thank DDOCentral for there donation, check out the website ddocentreal.com
Feedback
iTunes Reviews
This week we did not receive any reviews but would love your support!
Featured Comments
This week we have no featured comments
Emails
This week we have no emails.
Contact Us
Email us!
podcast@ddoplayers.com
Follow us on Twitter!
The Players Alliance @PlayersAlly
DDO Players @DDOPlayers
Draculetta @Draculetta_72
Pineleaf @PineleafNeedles
Follow Our Guest @SahbaJade
Final Thoughts
The Players Alliance LIVE Shows
Mondays at 8:30 p.m. Eastern – DDO Players News
Saturdays at 8:30 p.m. Eastern – LOTRO Players News
Every other Thursday at 9 p.m. Eastern – XP Quest
Every other Saturday after LPN – Tales of the Free Folk
Join Us For Our Live Shows! ddoplayers.com/live/