More update 32 news this week. They got Critical Role In Our DDO! And Storm King's Thunder Dungeon & Dragons 5E News!
Audio Only Listen And Download Link
Podcast: Play in new window | Download (58.4MB)
YouTube Watch Links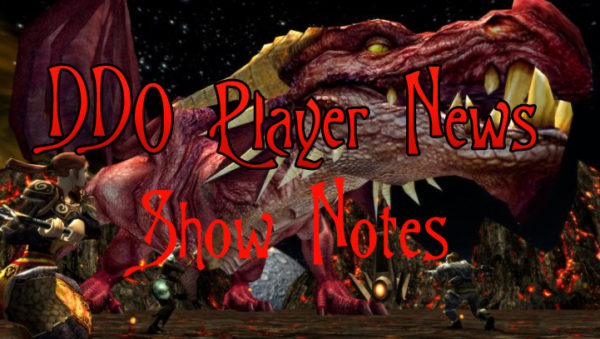 Game News
Update 32 on Lamannia: Against the Slave Lords
DDO Players How To Character Copy On Lamannia
Travis Willingham Is Your DM For Update 32: Against the Slave Lords
Store Sales
Free Sample Of The Week August 19th – 25th
Gold Seal Elixir of Lesser Healing x10 Use Coupon Code HEALS4ME 1/Account
25 % OFF
Stat Tomes
Skill & UMD Tomes
Tomes of Learning
Harper Agent Enhancement Tree
DDO Players News
Firelock Games Mike Tunez Lead Designer Blood & Plunder Interview
DDO Players Gen Con 2016 Rick Loomis Interview
DDO Players Gen Con 2016 Ken St Andre Interview
DDO Players Gen Con 2016 David Reid MetaArcade
From The Dungeon
WOTC Extra Life Storm King's Thunder 24 Hour Live Stream
Storm King's Thunder Extra Life Preview – Appendix A: Linked Adventures
Storm King's Thunder Extra Life Preview – D100 Table For Items In A Giant's Bag
Cloud Giant's Bargain Adventure For PAX West Acquisitions Incorporated Event
Force Grey : Giant Hunters Episode 6 – Battling Displacer Beasts and Rogue Fails!
On The Table Top
Scuba Coming From Keep Exploring Games In September
MAGE Company Announces Carrotia Kickstarter
Week in Gaming
Drac Week
Cannith
Shadar-Kai Lvl 19
The Devil's Gambit (AKA The Quest For The Quiver Again)
Druid Lvl 7 (Soon To Be WolfLock)
Harbor
A Man Named Baudry Cartamon (Elite)
Protect Baudry's Interests
Stop Hazadill's Shipment
Retrieve the Stolen Goods
The Kobolds' New Ringleader (Elite)
Bringing the Light (Elite)
Marketplace
The Sharn Syndicate (Elite)
Ranger  9 (Gnome – Static Group With Mythery, Sahba Jade, Rent2Pwn)
House Deneith
The Pit
Stormcleave Outpost
Rogue Lvl 9 (With Pineleaf)
Tangleroot Gorge
Doom of the Witch-doctor: The Way to Zulkash
Zulkash, Herald of Woe
The Last Move: The Way to Yarkuch
Yarkuch's Last Stand
Gained reputation with House Phiarlan
Argonnessen
WolfLock Lvl 20
With The Damsels Of DDO (AKA The Hazing Of Drac)
Amrath
Bastion of Power
Genesis Point
More DM Prep For Suites Of The Mist
More DM Pre For Death House
Pineleaf Week
Gnome warlock Level 10 (with Drac)
Tangleroot Gorge
Doom of the Witch-doctor: The Way to Zulkash
Zulkash, Herald of Woe
The Last Move: The Way to Yarkuch
Yarkuch's Last Stand
Gained reputation with House Phiarlan
Warforged Warlock Level 7
Temple of Elemental Evil, Part 1
The highlight was when the cleric's spider fought gargoyles through two doors.
I was halfway through the boss fight before realizing my warlock was in the wrong stance
In light of the above, you can guess that I died again
Human Druid 2 / Warlock 2
Sharn Syndicate
The Stormreaver Fresco
The Bookbinder Rescue (thanks for Druid strength and Ram's Might)
Repossession
Minecraft
For the first time in my playing of Minecraft, I have managed to get full diamond gear.
Some cave spiders got their revenge on me.
I later returned to clear the flank but could not finished the spiders. I fact, I learned that we had a double spawner. Yikes!
Donations
We currently have 28 supporters on Patreon. If you would like help support DDO Players, simply go to the donation page where you can support The Players Alliance on Patreon.  There you will find rewards including a mention on the podcast of your choice, or even guest for an episode on DDO Players News. By supporting us on Patreon you will help us upgrade our camera's so we can bring you better convention and tabletop play/review coverage.
Feedback
iTunes Reviews
This week we did not receive any reviews but would love your support!
Featured Comments
This week we have no featured comments
Emails
Deadlock/Quijonn Sent A Message To Drac On The Forums!
Random message to say ola. O've taken on a couple of fairly huge products at work so been busy for the past while, but been catching up with the DDO Players webcasts while sitting in various hotels around Europe
On the DDO front, The Monday Marauders have TR'd and are back to lvl 8 at the moment, on Ghallanda (couple of the Marauders had to drop out for personal work/life reasons, so we've 2 spare spots on Ghallanda starting at 7pm UK time on a Monday night – ping Olgeirdottir for an invite!). We're re-running the Stormreach Campaign and recording the extra XP from the Monster Manual volumes added since the hardback was printed I'll update the PDF download when we're done and hopefully have some time to write up some more on the Stormreach Campaign blog when time allows.
But enough about us Ghallanda-ites.
For the record, Steve Jackson and Ian Livingston are absolute legends – I was in my early teens when these came out and they turned a whole generation onto Fantasy RPG's Any accusations that I would keep my finger in the page I was on before checking out the result of my decision will be vigorously defended. Those guys are up there with Dave Morris and Oliver Johnson who came out with Dragon Warriors (https://en.wikipedia.org/wiki/Dragon_Warriors) which was another British cheapish fantasy RPG system which was my introduction to redbox D&D
Looking forward to 100th episode Keep up the good work man and say howdy to Pineleaf.
Cheers
Deadlock / Quijonn /
Contact Us
Email us!
podcast@ddoplayers.com
Follow us on Twitter!
The Players Alliance @PlayersAlly
DDO Players @DDOPlayers
Draculetta @Draculetta_72
Pineleaf @PineleafNeedles
Join Our Steam Group!
Final Thoughts
The Players Alliance LIVE Shows
Mondays at 8:30 p.m. Eastern – DDO Players News
Every Other Thursday at 9:30 (ISH) p.m. Eastern – XP Quest
Saturdays at 8:30 p.m. Eastern – LOTRO Players News
Every other Saturday after LPN – Tales of the Free Folk
Last weekend of each month (Sat 8/27 3:00PM Eastern) – LOTRO Academy: After School
Join Us For Our Live Shows! ddoplayers.com/live/