On the show we talk about Druid & Artificer proposed changes and the poor D12.
Audio Only Listen And Download Link
Podcast: Play in new window | Download (52.8MB)
YouTube Watch Links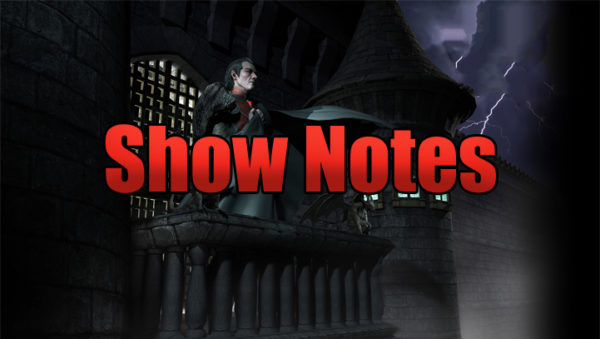 Game News
Early Look: Artificer Changes & Renegade Mastermaker
Store Sales
20% off:
Select Adventure Packs
Quest XP Elixirs
Free Sample Of The Week
Greater Crafting Experience Elixir x1 with the Coupon Code CRAFT, now through February 15th!
From The Dungeon
Old Spice Brings Us A New D&D Character Class: The Gentleman
On The Table Top
Sailor Moon Crystal Dice Challenge Pre Order Open Now
Mayfair Games Closing And Games Acquired By Asmodee
On The Screen
Amazon Has An Conan the Barbarian TV Series in Development
Achtung! Cthulhu Tactics – The Forest of Fear Video Game On Kickstarter
Week in Gaming
Drac Week
Shadar-Kai Lvl 19
The Harbor
The Devil's Gambit
Rogue Lvl 17 (Reached)
The Harbor
Ranger Lvl 11
Delera's Tomb *Elite*
Return to Delera's Tomb
Thrall of the Necromancer
Video Games
7 Days To Die
Operation Find Rent Complete. Tae and I went out a mission to find where Rent was hiding and found him.
Pineleaf Week
I had a light week due to computer issues and a nasty case of Barovian Flu
Halfling Paladin 12
Mists of Ravenloft
The Final Vintage (rerun to warm up after reinstalling my client)
Korthos Island
Due to the name of my character (Pineleaf), I plan to make this a long-term character
I decided I had to get Coin Lord rep if I planned to keep the character
All of the Korthos dungeons at elite to get triple rep
Harbor
Protect Baudry's Interests
Stop Hazadill's Shipment
The Miller's Debt
Arachnophobia
Garrison's Missing Pack
The Kobolds' New Ringleader
Marketplace
Stand Your Ground
Dirty Laundry
The Stormreaver Fresco
The Bookbinder Rescue
Restoration
Come out and Slay
Minecraft
Finished the Hall of Triumphant Pine.
Donations
We currently have 18 supporters on Patreon. If you would like help support DDO Players, simply go to the donation page where you can support The Players Alliance on Patreon.   There you will find rewards including a mention on the podcast of your choice, or even guest for an episode on DDO Players News.
Feedback
iTunes Reviews
This week we did not receive any reviews but would love your support!
Featured Comments
This week we have no featured comments
Emails
This week we have no emails.
Contact Us
Email us!
podcast@ddoplayers.com
Follow us on Twitter!
The Players Alliance @PlayersAlly
DDO Players @DDOPlayers
Draculetta @Draculetta_72
Pineleaf @PineleafNeedles
Final Thoughts
The Players Alliance LIVE Shows
Mondays at 8:30 p.m. Eastern – DDO Players News
Saturdays at 8:30 p.m. Eastern – LOTRO Players News
Every Other Thursday at 9:30 pm Eastern – XPQuest
And our Brand new show!
The First Tuesday Of Every Month at 9:30pm EST Chromaticbits
A new pre recorded Video Game Music Podcast! (Will air on Mixlr then release as podcast version)
Join Us For Our Live Shows! ddoplayers.com/live/